If you're looking for great cookbooks for the slow cooker that will make keto eating easier and tastier, you've come to the right place! Slow cooker recipes are so convenient, especially if you're trying to cook keto for your whole family, or want recipes that will help you with weekly meal prep! There are many different cookbooks that explore keto slow cooker recipes, all with different focuses and features to help you tailor your cooking.
Here are some reviews to help you find the perfect cookbook for you:
Keto Slow Cooker Cookbook (by Kelsey Ale)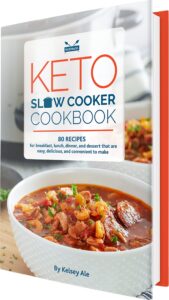 Check price and availability on Amazon
This book features 80 keto recipes for the slow cooker that are sure to become fast favorites. The author, who is a licensed nutritional therapist, provides not only recipes but tips and tricks on how to cook food that is both healthy and enjoyable. This book features recipes for breakfast, lunch, dinner and dessert all in the slow cooker! With this cookbook, you can use your slow cooker not only for fabulous dinners, but also breakfasts and desserts that will make keto eating easy.
The book also boasts a section on keto staples, revamped or done in the slow cooker to make consistent keto eating simple. The best part of the slow cooker is that you can set it and forget it, this cookbook will help those meals taste delicious as well! The author takes her background in nutritional therapy to craft recipes that will help you stay in ketosis throughout the day, while still feeling full and satisfied.
Fix-it and Forget it Big Book of Keto Recipes (by Hope Comerford)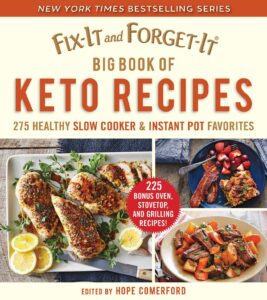 Check price and availability on Amazon
The 'big book' in the title is not kidding when it comes to this keto cookbook, there are 275 slow cooker recipes inside! This particular book has sold over 10 million copies, which just shows how many good recipes can be found inside. One of the features of this book is that it even offers drink recipes that can be made in the slow cooker (perfect for entertaining) that are keto friendly. In addition to the 275 slow cooker recipes, there are a bonus 225 recipes for the stovetop or oven that will support your new slow cooker favorites, which makes for 500 recipes total.
This book can be great if you have picky eaters or specific diet requirements, since you are bound to find tons of recipes that fit your needs amongst the 500 options. This book also has many recipes that can be done in an instant pot, which are super convenient since you can cook a lot of food very quickly, if you have an instant pot, you will be able to use it as a slow cooker or a pressure cooker to make these recipes. This book will not only help you cook entrées in the slow cooker, but appetizers, sides and desserts in both the slow cooker as well as on the stovetop.
Easy Ketogenic Diet Slow Cooking (by Amy Ramos)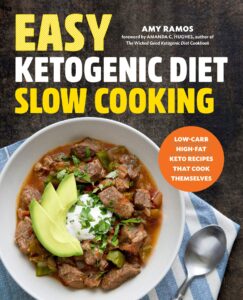 Check price and availability on Amazon
The author of this cookbook understands that a long-term commitment to a diet can be difficult, and that a rotation of easy and delicious recipes are needed in order to be successful. That is why this book features 120 ketogenic slow cooker recipes that will help you stick to your keto diet long-term. Another feature of this book is that all of the ingredients are easily accessible and relatively inexpensive, so that you can cook healthy keto recipes while sticking to your budget.
This book boasts being the first cookbook made specifically for ketogenic recipes and has since been a popular favorite. The author's focus on universal flavors and simple ingredients is meant to help those that are new to cooking or ketogenic eating understand their diet and how to make delicious meals that will be well-liked by all. The importance of convenience is not lost on the author; the recipes within this cookbook require little to no prep and are exclusively made in the slow cooker; anyone can make these recipes no matter their skill level or schedule.
If you are looking for more cookbooks in addition to the ones reviewed above that will help you with keto cooking, see below to find more keto slow cooker cookbooks.
| | | | |
| --- | --- | --- | --- |
| | The Keto Slow Cooker Cookbook: 500 Ketogenic Diet Recipes for Your Slow Cooker | $ 9.99 | Buy Now |
| | 5-Ingredients or Less Keto Crock Pot Cookbook: 21 Day for Rapid Weight Loss and Burn Fat Forever- Lose up to 20 Pounds in 3 Weeks | $ 8.98 | Buy Now |
| | Keto Crock Pot Cookbook: 600 Easy & Delicious Crock Pot Recipes for Rapid Weight Loss & Burn Fat Forever (Crock Pot Cookbook for Beginners and Pros) | $ 12.98 | Buy Now |
| | Keto Instant Pot: 130+ Healthy Low-Carb Recipes for Your Electric Pressure Cooker or Slow Cooker | $ 17.42 | Buy Now |